Amazon Prime members can unlock free Grubhub+ for a year
Amazon Prime members get a year of Grubhub+ for free (valued at $119/year). Enjoy no delivery fees, member-only offers and fast delivery on food, snacks, drinks and more!*
Amazon Prime members get...
Unlimited $0 delivery fees
$0 delivery fees on orders of $12+ from GH+ restaurants
Member-only offers & rewards
Get free food, member-only deals, and more
On-time delivery at the lowest prices—guaranteed or we'll make it right.**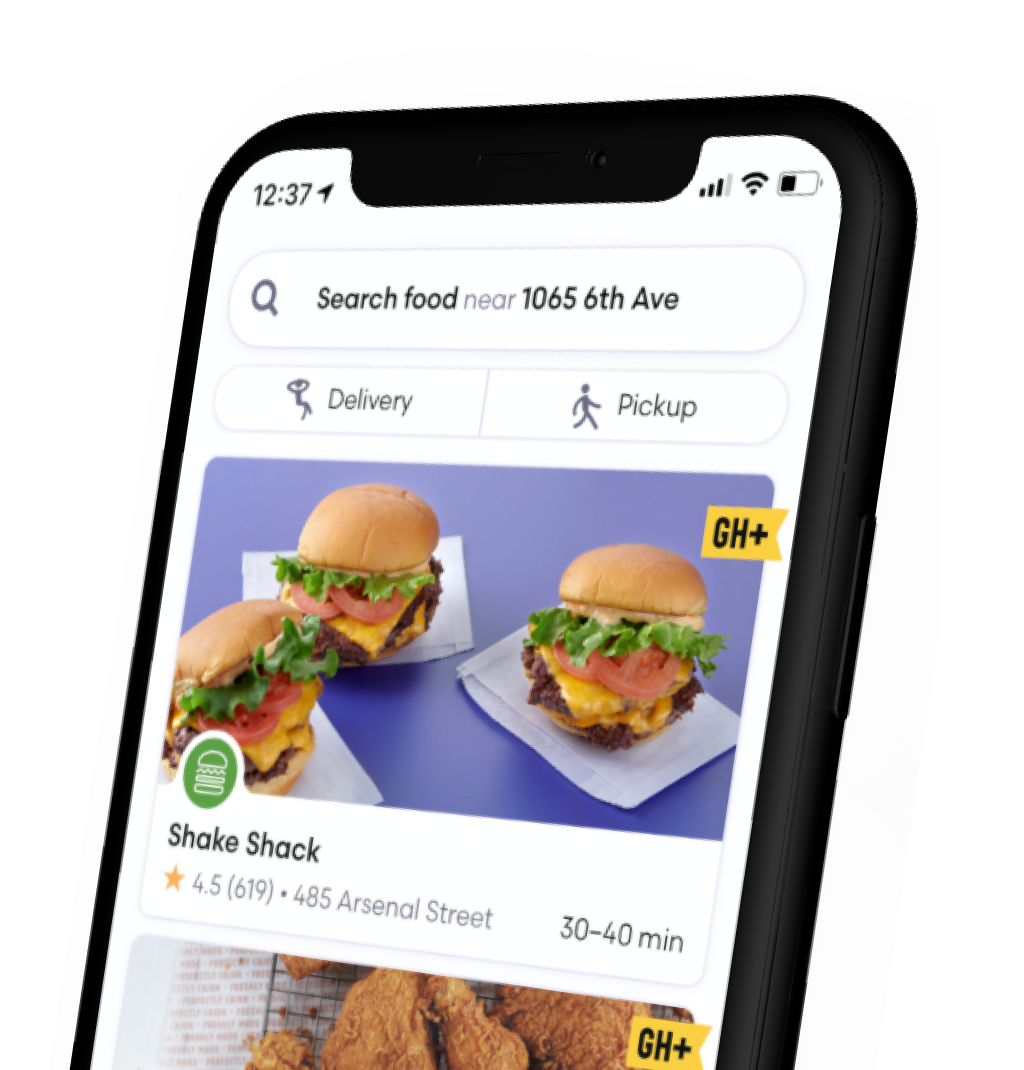 Find restaurants you'll love
Look for the GH+ flag or use the filter to find all the eligible restaurants near you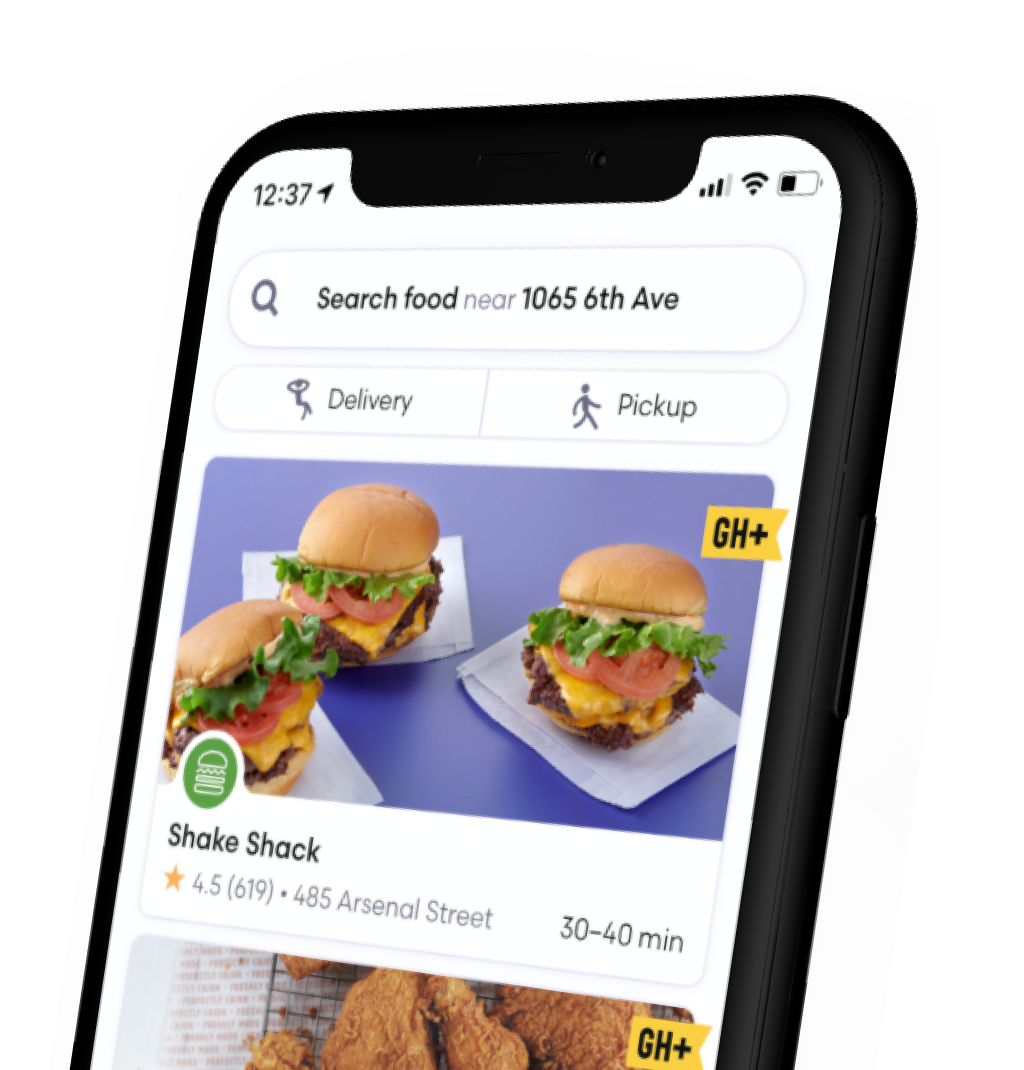 Join Grubhub+ and get $0 delivery fees starting today
Have more questions? Check out our FAQ page.
*$0 delivery fees applicable on orders with a $12+ subtotal (before tax, tip, and fees) from Grubhub+ eligible restaurants only. Additional fees (including service fees) may apply and vary on orders. Offer valid for authenticated Amazon Prime members in the U.S. only. Existing Grubhub+ Student members participating through Amazon Prime Student are not currently eligible. Must link Amazon Prime and Grubhub accounts to redeem offer. Subject to restaurant and delivery availability. Free one year Grubhub+ trial available for 12 months from date trial is initiated. If you are an existing Grubhub+ member on a paid plan, your paid plan will be canceled upon signup and your free trial will begin on the first calendar day immediately following the current billing cycle. Grubhub+ is an automatically renewing membership service requiring recurring payments. After your free trial ends, your free trial will convert to a paid Grubhub+ membership and Grubhub will automatically charge you each month at the then-current rate (currently $9.99) plus tax until you cancel unless you do not have a payment method saved in your Grubhub account at renewal. Grubhub may charge any payment method on file for your Grubhub account. See Grubhub+ cancellation and refund policy and full terms at lp.grubhub.com/legal/plus. Grubhub will donate amounts equal to participating members' donations donated through Grubhub's Donate the Change feature in connection with orders placed at Grubhub+ eligible restaurants only. Grubhub reserves the right to cancel, suspend and/or modify any aspect of or the entirety of this offer, for any reason at any time, with or without notice, including, without limitation, if any fraud or technical failure impairs the integrity or proper functioning of the offer.
** The Grubhub Guarantee includes the Lowest Price Guarantee and the On-Time Delivery Guarantee. The Lowest Price Guarantee is a price match program that offers claimants Grubhub Guarantee Perks ("GHG Perks") in connection with certain orders when a qualifying lower price is available for the same order on a qualifying competitor platform. Pricing will be determined based on food and beverage total plus tax and fees (excluding tip, promos, and discretionary charges). Maximum $15 Lowest Price Guarantee GHG Perk (which includes a $5 Extra Perk). The On-Time Delivery Guarantee offers claimants GHG Perks in connection with eligible online delivery orders that are delivered late. Eligible claimants will receive at least a $5 On-Time Delivery Guarantee GHG Perk. Each GHG Perk may be redeemed on a future order with a food and beverage total equal to or greater than the value of the GHG Perk (before tax, tip, fees). Claims must be submitted within 7 days of the applicable order. GHG Perks are funded by Grubhub. GHG Perks may be redeemed only on a future order, expire 30 days after issue, may not be combined and are subject to restrictions. No cash exchanges, payment method credits, or refunds. Full terms available at lp.grubhub.com/legal/ghgterms.
AMAZON, AMAZON.COM, AMAZON PRIME and the AMAZON PRIME logo are trademarks of Amazon.com, Inc. or its affiliates.
© 2023 Grubhub All rights reserved.